Simplified expense claims
Submitting an expense claim should not require a cheat-sheet. Forget the formulas and the cells and put away your calculator – Concur provides easy and smart expense claim management.
---
Expense claims made easy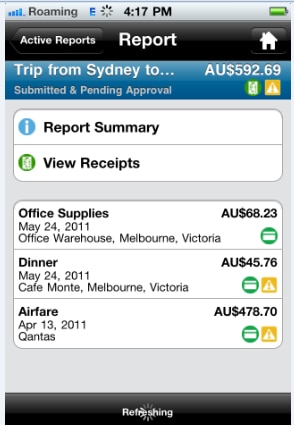 We know on-demand cloud computing. We know mobile apps. And we've never much cared for manual expense claim entry. That's why we've streamlined and automated the entire expense claim process. With Concur, managers can easily review, approve, process and audit expense claims – providing them with control and visibility into travel & entertainment (T&E) spend. This means employees save significant time by easily creating and submitting accurate, in-policy expense claims. Our automated expense software has proven to:
Increase T&E policy compliance to as high as 90 percent
Reduce the employee reimbursement cycle time by two-thirds
Decrease the cost of every expense claim by over 78 percent*
---
Forget backlogs
Concur makes it easy to capture data at the time employees incur expenses, reducing the time spent recording and accounting for transactions. Cash expenses like taxi fares can be quickly added to an expense claim, receipt images can be captured with the phone's camera and credit card charges are automatically made available in the expense claim for reporting.
Streamlined expense claims
Employees can easily create and submit accurate, in-policy expense claims for managers to quickly review, approve, process and audit.
Automatic compliance
Defined business rules, specific to your organisation, are built into Concur. You choose the policies and thresholds based on your organisation's unique needs. Powerful controls help reduce misuse or fraud and ensure that expense claims are within policy.
Electronic-receipts
Concur offers electronic receipts directly from airlines, hotels, and car hire companies which automatically begin the population of a business traveller's expense report helping employees to save time and ensure information is accurate.
Smart expense claims
We match travel booking information with corporate card charges and electronic receipts to create a secure system of checks and balances for your organisation's spending.
Increase Reimbursement Times
With Concur's solution you can manage payments with tight control, allowing you to reimburse employees faster and with greater accuracy. Automatic corporate credit card remittance helps encourage employee corporate credit card adoption.
An integrated expense system
With an automated expense management system, online expense tracking saves organisations time and drives down costs. With Concur, businesses can:
Reduce costs – automation lowers transaction and processing costs
Save time – transaction data automatically populates into expense claims
Enforce policies – your policies are configured in the solution
Increase satisfaction – with faster employee reimbursement
Eliminate paper – through online processing and e-receipts.
When Tripit Pro is integrated with Concur travel & expense solution, your benefits get even better.
With Concur travel & expense , electronic receipts are automatically sent to your expense claim – direct from airlines, hotels, and car hire companies – reducing the amount of paper receipts you need to manage. From there, Concur matches your receipts with your travel booking information from Concur's online booking tool or TripIt Pro along with corporate card charges. This creates a secure system of checks and balances to help you not only control spend, but speed up the expense claim approval process. Plus, You get increased visibility to trips booked outside your travel programme giving you clear insight into how your company and employees spend their travel and expense budgets.
*Aberdeen Group