What "Invoice Management" should be
Why is it that some business invoice software "solutions" don't seem to save organisations any time, they just digitize the same old manual processes? Take your time back and gain control of your invoice payment process.
---
Invoice capture methods
Invoice Management service allows organisations to capture and process invoice data quickly and effortlessly using multiple methods:
E-Invoices
OB10 E-Invoices
Paper invoices
E-mailed invoices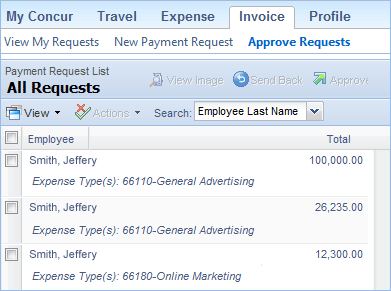 ---
To further cut invoice processing time, organisations can take advantage of Invoice Capture. All invoices, whether paper, e-mail or fax, are sent to a central location to be scanned and uploaded for a streamlined invoice payment process.
Enhance invoice approval and allocation
With Concur, an organisation's invoice management process is easy. And, it's available on mobile devices, allowing you to conveniently track, review, approve or reject invoices anywhere using your smartphone.
Maximise cash flow
Organisations can quickly automate the entire invoice process while collecting all the relevant data and approvals along the way.
Gain visibility and reduce spend
As a part of Concur, the Invoice Management service can help transform employee spend data into effective decision-making information.
Electronically Submit Invoices
Vendors and suppliers can electronically submit invoices and track their progress through the secure Supplier Portal – reducing the time AP staff spends answering inquiries.