Forget expense tracking; think GPS for small business expenses
Struggling to keep tabs on your business expenses? Is your expense tracking software turning into a list of lost receipts? Not anymore. Concur makes expense management easy with one online and mobile expense tracker that pulls it all together. Along with tracking business expenses like travel and entertainment (T&E), supplier costs and office supplies, Concur helps small businesses manage:
Out-of-pocket cash expenses
Multiple cost centres
Operational expenses
Miscellaneous expenses
Fringe Benefit Taxes (FBT)
Goods and Services Taxes (GST)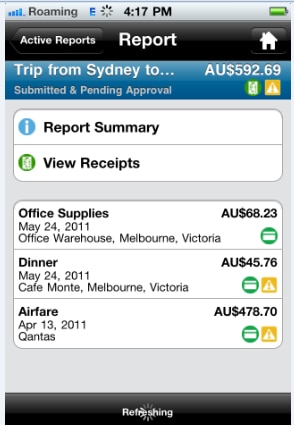 ---
Hit the pool, read a book – we've got it covered.
Managing business expenses with Concur is so easy, you'll have time to read that book, take a nap or maybe even get some real work done. With years of embedded best practices deploying thousands of organisations, Concur really has your expenses covered.
---
No more hide and seek
Because cost centre tracking shouldn't be a game, business expense claims in Concur automatically matches the correct client billing codes. The data can also be seamlessly exported into a financial system without keying and reports can be generated to see exactly how and where employees are spending.
---
The fringe benefits of not tracking fringe benefits
By capturing pertinent information up-front, Concur ensures organisations are properly accounting fringe benefit taxes (FBT) for all employees. It also captures what it needs to maximise goods and services taxes (GST) recovery – leaving your employees free to worry about something other than their receipts.
---
When Tripit Pro is integrated with Concur travel & expense solution, your benefits get even better.
With Concur travel & expense , electronic receipts are automatically sent to your expense claim – direct from airlines, hotels, and car hire companies – reducing the amount of paper receipts you need to manage. From there, Concur matches your receipts with your travel booking information from Concur's online booking tool or TripIt Pro along with corporate card charges. This creates a secure system of checks and balances to help you not only control spend, but speed up the expense claim approval process. Plus, You get increased visibility to trips booked outside your travel programme giving you clear insight into how your company and employees spend their travel and expense budgets.